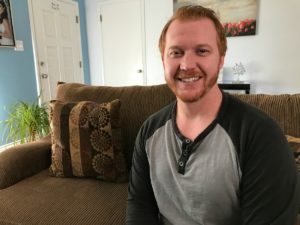 Putting people first is at the heart of everything we do at CHG Healthcare. From corporate programs that provide assistance to employee-driven fundraisers, we take care of our people and support them when they need it most.
One of these programs is our Employee Compassion Fund.
Funded by employees, for employees, our compassion fund provides need-based grants to employees facing financial hardship. Thanks to employee donations and fundraising events like the Compassion Fund 5K, last year alone we were able to award 29 grants, totaling $40,000, to help team members who fell on hard times.
Helping a co-worker in need
When Jeff Coon, a sales manager with our CompHealth division, found himself dealing with the unimaginable — his wife's cancer diagnosis — his team stepped in to provide support.
"Individuals at the company offered paid time off, they offered their vacation time, their time with their family for me to be with my family," Jeff shares.
With cancer comes numerous trips to the hospital, doctor appointments and medications. The bills started to pile up. Jeff's manager, Dustin Thomas, recommended applying for an Employee Compassion Fund grant to help ease some of the financial burden.
"I put my pride away and accepted the reality that I needed help," Jeff says. "So, I applied for the Compassion Fund and was able to take the money from the grant and put it directly toward one of the bills that was due immediately, which was a huge relief for me."
Paying it forward
Jeff's experience made him realize the huge impact even the smallest kindness has on someone in need.
"I know I can't pay back what they did for me, but I can pay it forward to other people and try to perpetuate the kindness that was offered to me," Jeff shares. "The beautiful thing about the Compassion Fund is with the amount of employees that we have, if everyone gives a little, there's a lot at the end and there's a lot of opportunity to help at the end."
Hear more about Jeff's story in the video below.​
​