Today is Will Clark's last day at CompHealth. He recently enlisted in the Army Reserve and is shipping out to basic training at Fort Sill in Oklahoma.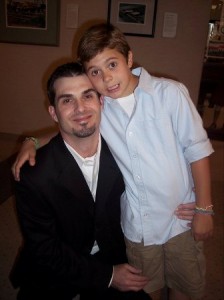 Name: Will Clark
Job Title: Hospital privilege coordinator at CompHealth locum tenens in Salt Lake City, Utah
Years with CHG: 1
What is your favorite part about working at CHG? The developed relationships with team members and members of other teams.
What one story best describes your experience at CHG? I can't really say I have a story. If I did, it would involve a family-style atmosphere with my teammates where we battle together daily.
If you could choose your last meal, what would it be? My mom's homemade mac and cheese. I used to always have it on my birthday.
If someone asked you what you do, how would you answer them? I support the recruitment and placement of doctors at various facilities.
What did you choose to work at CHG? Because of the reputation and security CHG offers.
What is your favorite event that you have participated in at CHG and why? I don't have a particular event. Any event where I get to have fun with fellow teammates is always a favorite.
What is your favorite core value at CHG? Continual improvement. I chose this because it's a personal philosophy of mine. I'm always looking for ways to improve or learn. "If you're not moving forward, you're standing still."
What five things would you take to a desert island? My wife, my son, my dogs and a lot of water. From there I can make it all work out.
In a movie about your life, who would you choose to star as you? Ben Affleck, I guess. Hopefully he could find the time.
Why did you choose to enlist in the military? I decided to enlist with the Army Reserve initially because I had a growing sense of honor and pride for the United States of America. As I've grown up, I have become more and more aware of this country and what it stands for as far as freedom. I wouldn't say I agree with everything we as a country have done; however, I do recognize that the United States stands for freedom and democracy. The majority of us have no idea what it's like not to have freedom. Freedom is something I'm thankful for every day, and I believe in it. So with that belief and understanding, as a father my job is to love my kids first and foremost but also to teach and prepare them for adulthood. This is so they can take care of themselves but, more importantly, make their own choices and to believe in those choices and then to stand up for those beliefs, even if they are tough. I have succeeded so much in life because I believe, and this is something I strive to pass onto my son right now and other children in the future. I am a role model to him, and unless I demonstrate what I am preaching, will he believe in me? I have always wanted to help others, be that person or a part of the team that made a difference. I joined the American Red Cross after Hurricane Katrina and went to Mobile, Ala., as a case worker for a little over a month (one of the greatest experiences of my life), and I am a father, which is the greatest experience of my life. I know I can make a difference in the capacity. The bottom line was I wanted to demonstrate to my son and wife to follow their dreams, stand up for what you believe in and don't go to your grave with questions and support the country that gives all of us so many opportunities. We all have to make sacrifices in life at some point and to certain degrees; there is no getting around it. I will demonstrate to my family that I will sacrifice my time with them to protect them and our country because I believe what I'm doing is right. I hope to fulfill what I preach to my son through action, not just talk, in hopes he will do the same for himself and his family one day. I want to bring honor to my wife, my son, my family (parents and sisters), and my last name. Being a Clark means a lot me.