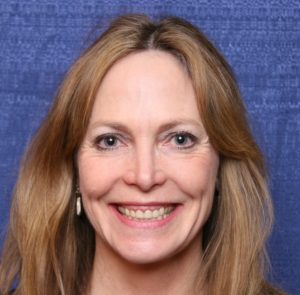 Jen Mayhew joined our CHG family in 1997 as a team leader in our marketing department. In her time at CHG, Jen has helped shape our culture — even founding our annual Employee Appreciation Week while she worked on our corporate events team.
"I wrote the concept for it into my business plan and pitched the idea to Kevin Ricklefs and Mike Weinholtz," Jen recalls. "They liked it and Employee Appreciation Week was born, though very meager in its early years!"
More than a decade later, Employee Appreciation Week has become one of our favorite events that employees look forward to every year. Check out all the fun we had last year in the video below.
Jen rejoined the marketing team in 2010 and currently leads our creative and project management team as a senior director. One of her favorite things about CHG is the people she works with every day.
"The people at CHG have always been incredible to work with," she says. "I've always felt that the executive leadership team wants what's best for me, my team and the company."

Learn more about Jen in the Q&A below.
What is your most memorable moment at CHG so far?
Working on and winning Fortune magazine's "100 Best Places to Work For" the first time. I couldn't believe we were No. 26 our first year on the list!
What advice do you have for others looking to grow their career?
I know it's been said before, but if you bring your best self to work every day and work hard on building the core skills needed to do your job, you will get noticed and promoted. I have worked with several people over the years who have been promoted multiple times and this is the behavior they exhibit.
What was it like when you first started working here?
I had worked with an ad agency who handled the CompHealth account, so I knew what to expect, but the company was a totally different place than it is today. We were just purchased by Health South and required to wear business attire. Men were supposed to wear ties! You knew that the executive leadership was in trouble when Health South started asking a lot of questions about our finances, marketing and people. Needless to say our CEO and my boss, the VP of sales and marketing lost their jobs and along came Mike Weinholtz who began engineering a culture of change.
How have you grown personally while working here?
I was very lucky to have the opportunity to work with some outstanding leaders and I learned different aspects from each. I learned having passion for the people you work with from Mike. I learned to push myself to make the work the best it can be from Scott Beck, I learned to not overthink things from Kevin, kindness from Drew Clarke, and from Leslie Snavely — what it's like to have a kickass female leader.
What changes have you witnessed throughout the years?
Yikes, I couldn't begin to tell you all of the changes. I would say that 99 percent of them have been good.
If you had a day to do anything at all, what would you do?
Since it's my anniversary, I would like to spend the day with all of the people who I have gotten to know over the years at CHG. I think it would be great to tell stories and reminisce about CHG in the early days. There are some really funny stories!

Hear more about Jen's time with CHG in her Free to Be Me video.