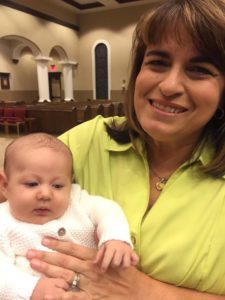 Helen Smith is an assignment coordinator in our Foundation Medical Staffing office in Edmond, Oklahoma. She joined CHG Healthcare in 2015 and loves the people and the low-stress workplace environment the company offers.
"This has been a great move for me," Helen shares. "I have learned that you can have fun at work and still be successful. I truly enjoy my job and the people I work with."
Learn more about Helen, including what her spirit animal is, in the Q&A below.
How do you describe what you do for a living to your friends?
I tell them that we find jobs for dialysis nurses all over the U.S., and I get to help with the confirmations and contracts between the nurses and the hospital facilities.
What has been your most memorable moment at CHG so far? 
Employee appreciation week. I have been in the workforce for… Well, let's just say longer than I was in school. It amazes me how far a company will go to show its employees how much they appreciate the work and the effort that is put in to make sure they have a good week. Even the managers enjoy this week and still find a way to be productive as a team. Not that all weeks are not good, but it is nice to have that one week a year where it is all about the employees.
Which CHG core value means the most to you and why?
Putting people first. This means so much to me personally. I have worked in the past where the job was always first the goals had to be met. There was extreme pressure on meeting those goals every month. Here the goals are important and everyone works hard to get there. However, if there is something in the community that needs our attention as a team or if you have a personal need to be off work for the day to help family, you are not made to feel guilty to want to take that time. It is encouraged to take care of family first and that says a lot about our company.
What is your favorite benefit at CHG and why is it your favorite?
Wellness Pays. I think this is such a plus for a company to offer. I get to earn points to do things that I would normally do for myself and get a discount on my health benefits. Most of the health and wellness classes that CHG offers are helpful and I would go to them just to learn how to better my health. I need that extra push occasionally on weight management so this also helps keep me motivated and holds me accountable. Plus, it never hurts to save money.
If you were stranded on a desert island, what three things would you take with you? 
My ideal place to be stranded would be a sandy white beach with nothing to worry about. I would have to bring with me plenty of water and a lighter — I am not much of a survivor and fresh water and fire to cook is a must. The third item would have to be my iPad with preloaded books and games because one would not be enough.
If you had a day to do anything at all, what would you do? 
I would go to a beach in Florida and enjoy the white sand, ocean breeze and my family. That would be the best day every.
What's an interesting fact about you? 
I have a history of military solders in my family. My mom is retired Air Force and my dad spent time in the Navy. I spent some time in the Army and today my son is serving in the Army as an MP.
If you had to choose a famous actress to portray you in a movie, who would it be and why?
Sandra Bullock. She is one of my favorite actresses.
If you could choose a spirit animal, what would it be and why? 
Eagle — I would love to be able to fly miles above and see what is ahead.​